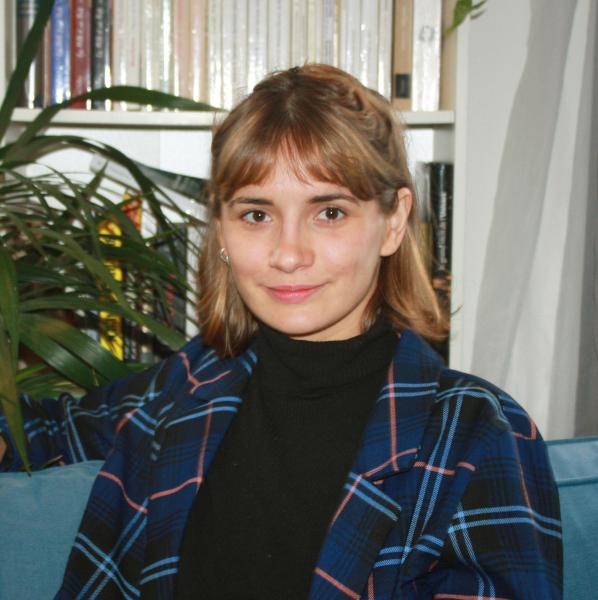 Fanny Papastamou
Doctoral Researcher/ Doctorante
Research interests:
Autism spectrum disorder, associative learning, cue competition, predictive coding, selective attention, perception, categorization, lexical acquisition, eye tracking, discourse analysis, first impressions.
----------
In 2019 she received an FNRS-grant to pursue a PhD within the ACTE and Co3 research centers. Her thesis focuses on predictive coding and associative learning in autistic individuals.
The main objective of her thesis is to study the possible existence of an efficient albeit atypical associative learning mechanism in autistic adults and children.  To that aim, she implemented a new eye tracking paradigm that allows participants to associate different stimuli with each other in two distinct ways according to their precision weighing of prediction errors during oddball events.
Her main hypothesis is that an atypical processing of prediction errors should lead autistic participants to associate stimuli in a peculiar way and therefore drive them to predict events differently from non-autistic participants. She is also interested in whether an atypical predictive coding in autistic children may correlate with lexical acquisition and categorization performance known to be delayed or divergent in the condition.

Her work focuses on verbal autistic adults as well as verbal and non verbal children between 3 and 6 years old.
---
Intérêts de recherche:
Trouble du spectre de l'autisme, apprentissage associatif, compétition d'indices, codage prédictif, attention sélective, perception, catégorisation, acquisition lexicale, eye tracking, analyse du discours, premières impressions.
----------
En 2019, elle a reçu une bourse FNRS pour poursuivre une thèse au sein des centres de recherche ACTE et Co3. Sa thèse porte sur le codage prédictif et l'apprentissage associatif chez les personnes autistes.
L'objectif principal de sa thèse est d'étudier l'existence possible d'un mécanisme d'apprentissage associatif efficient mais atypique chez les adultes et les enfants autistes. À cet effet, elle a mis en place un nouveau paradigme de suivi oculaire qui permet aux participants d'associer différents stimuli entre eux de deux manières distinctes en fonction de la pondération attribuée aux erreurs de prédiction lors d'événements inattendus.
Son hypothèse principale est qu'un traitement atypique des erreurs de prédiction devrait conduire les participants autistes à associer des stimuli de manière particulière et donc les conduire à prédire les événements différemment des participants non autistes. Elle s'intéresse également à la possible corrélation entre un codage prédictif atypique chez les enfants autistes et leurs performances d'acquisition lexicale et de catégorisation connues pour être retardées ou divergentes dans la condition.
Son travail porte sur les adultes autistes verbaux ainsi que sur les enfants verbaux et non verbaux âgés de 3 à 6 ans.